Back
Delivery Manager
Position: Permanent
Location: South Africa / remote work opportunity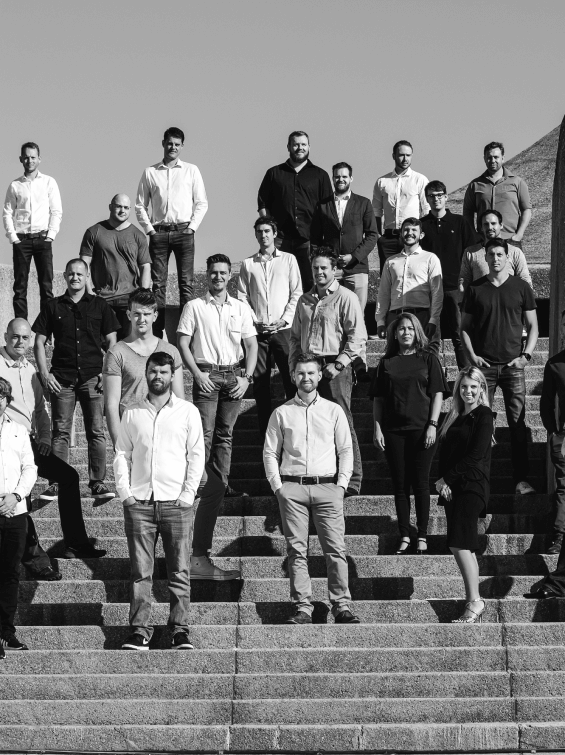 We are Haefele Software. We are a boutique software development firm, established in London 2006, with a growing team of 55 between London, Cape Town (primarily), Johannesburg, and Melbourne.

We are engineering-focused and build high-performance Agile teams, enjoying complex problems, serving a variety of industries and clients, generally abroad.

As a collective, we strive to be surrounded by equally personable, sharp, and growth-minded people, in a space that values relationships, people first, and pragmatic process, to foster the mentor and the mentorable.
Job Description
The Role
A Delivery Manager at Haefele Software is a dynamic individual who harnesses their extensive experience across various teams, client engagements, challenges, and industry domains to ensure timely and efficient delivery of projects. Their primary accountability lies in the successful delivery of solutions, ensuring quality, adoption, and stakeholder satisfaction.
Delivery Managers take the helm of the projects they oversee, ensuring clear communication, smooth processes, and optimal timelines. They are not just behind-the-scenes orchestrators; they are at the forefront of project initiation, ensuring all resources are aligned, stakeholder expectations are managed, and that the project kicks off with momentum and clarity.
Their ability to collaborate effectively, marshal the right resources, and communicate clearly ensures that every project phase is approached with strategy and precision. Instead of delving into specifics, they ensure that the right experts are in place to achieve the best results for the team, solution, and project.
If you think you're the correct fit, email your cv to careers@haefelesoftware.com to apply.
Your first 6 months at Haefele Software 
Everyone starts at Haefele Software by learning our processes. Our staff experience team will ensure you have all your hardware, gear, and swag on your start date. You'll need to work through our onboarding guide to get yourself set up and comfortable on our communications platform (MS Teams and Office 365) and added to the relevant groups and channels for the project team you will be joining. You'll meet your team, client, and the broader engineering team.
You'll get to know your Practice Lead, and you'll complete our fundamentals training program using our internal learning platform. You'll receive regular structured feedback from your team, and your Practice Lead will help you set goals and track their progress on the road to professional improvement.
Your mission will be
Overseeing resource allocation and management across the business.
Directing budgets for all CapEx and OpEx projects.
Facilitating project retrospectives and translating insights to other initiatives.
Driving client communication regarding priorities, expectations, process guidance, and approvals.
Conducting client delivery reviews.
Guiding project milestones to emphasize high-value outcomes.
Supporting the team in risk management mitigation.
Educating both the team and clients on agile methodologies.
Enhancing the overall customer experience.
Contributing to the sales and recruitment processes.
Aiding in the onboarding and offboarding procedures for clients and employees.
Clarifying and ensuring proper documentation of project business requirements.
Supporting the Tech Lead, Analyst, and QA engineer (3 Amigos) as the team's point of contact.
Helping teams adopt and implement changes efficiently.
Reviewing invoices and overseeing payment schedules.
Monitoring and nurturing team dynamics and relationships
Guaranteeing deliveries aligns with the Agile Manifesto.
Establishing and maintaining Team Agreements.
Promoting and ensuring team-building activities.
Maintaining transparency for all pertinent stakeholders.
Advocating for the consistent use of feedback tools for proactive problem identification.
Upholding delivery quality standards.
Reporting to the Delivery Director on service delivery, flagging issues, improvements, and action items.
Constantly learning and promoting knowledge sharing across the team and company.
Pursuing external professional certifications as necessary.
Participating in internal training periodically.
Persistently advancing the discipline through innovative tools and techniques.
Essential Experience
Working in a high-pressure team environment. Ideally, with consulting or contracting experience.
Having worked on multiple projects across different domains and industries.
Key contributor in building or extending features on client-focused project(s).
The ability to influence stakeholders to choose the correct path forward and work closely with them to determine acceptable solutions.
Experience creating detailed reports and giving presentations.
Competency in Microsoft applications including Word, Excel, and Outlook.
Experience leading and developing top-performing teams.
Experience overseeing Azure DevOps or Jira reports.
Problem-solving and conflict-resolution ability.
Outstanding organisational skills.
Ability to analyse and think quickly and to resolve conflict.
Strong communication, interpersonal and mentoring skills.
Ability to adapt to a changing environment.
Self-motivation and ability to stay focused in the middle of distraction.
Budget tracking and forecasting.
Resource and capacity planning.
Experience in multi-tasking.
Essential Personal Skills
A fervent researcher. Has a good understanding of how to go about solving technical challenges.
Able to clearly articulate ideas and explanations with team members and stakeholders alike.
Able to self-motivate to complete tasks taken on or assigned.
Actively shares their knowledge.
An open-minded collaborator with a growth mindset.
Clear and professional communicator. Able to clearly articulate ideas and explanations with team members and stakeholders alike.
Comfortable with ambiguity, an expert at digging into a vague requirement and getting clarity.
Conscientious problem solver, diligent in solving the tasks you are assigned.
Enjoys being challenged to go outside of your comfort zone.
Excellent planning, organizational, and time management skills.
Exceptional analytical and conceptual thinking skills.
Favours teamwork and collaboration over individual delivery.
Favours outcome over output.
High EQ and able to read the personalities around them to extract the best results from their team members.
Identifies opportunities to learn and grow your experience and value within the team.
Loves a challenge, leans into complex tasks, especially in areas they are unfamiliar with.
Makes technical decisions for the project based on data.
Self-motivated and expects the same from others on their team.
Spots learning opportunities and actively shares their knowledge.
Thrives when challenged, seemingly unstoppable in their approach to solving a challenging task.
Uses data as evidence to back up decision-making.
Desired Competencies
Relevant project management certifications – PMP/PRINCE2 etc
Agile certifications – CSM, CSPO, SAFe etc
Delivery Manager
Apply for this role
Do you think you're a fit? Tell us all about you.
Delivery Manager
Thanks for applying
We have recieved you application! Someone wil be in touch shortly.