Back
Peach Payments: A Story Of Growth and Success
Speakers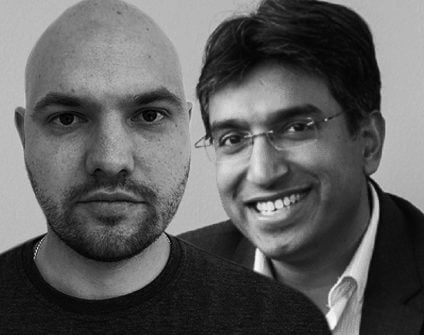 Rahul Jain & Ruberto Paulo
Peach Payments: A Story Of Growth and Success
"If you shop online in South Africa, you most likely pay with us." — Rahul Jain
Do What Peach Payments Did: It Works
Rahul Jain, CEO, & Ruberto Paulo, CTO, both from Peach Payments, reveal their greatest lessons through rapid business growth.
What we talked about:
Funding without fundraising and other wins

Differentiation in a digital market

Challenges and pathways to going global

Outsourcing development: how does it work?
Check out these resources we mentioned during the podcast:
Key Insights
Funding without fundraising, and other wins...
Rahul & Ruberto's team over at Peach Payments were growing at a rapid rate pre-COVID. As the pandemic emerged they experienced uncertainty just like the rest of us: will the growth rate slow or disappear altogether? As it turned out, with each wave of the pandemic, society grew more dependent on online shopping. This led to a 600% increase in customer acquisition over the second quarter of 2020. Let's be honest: nobody projects this kind of growth, even in the most optimistic of forecasts. Suddenly, the team needed to scale up every part of the business to deliver the same quality of service to existing and new customers alike. A pressing need to scale is a fabulous problem to have, which is why the existing investors injected more capital into the operation without hesitation. It's all about the people Rahul shared his view that the greatest wins are all related to the team. Convincing and persuading the right people, like Ruberto, to join the team at the right time effectively makes his job (and everyone else's) a whole lot easier. Diversity and trust go hand in hand when hiring for growth. Peach Payments' wins in this regard have come with a fair share of challenges, each one a golden learning opportunity which they've used to further improve how they do what they do.
Differentiation in a digital market
As more digital businesses emerge, it becomes tougher and more important to focus on what makes you stand out from your competitors. For Peach Payments, their flexibility feeds their phenomenal growth rate. Their solution is elastic and adaptable for large scale retailers like South Africa's Pick 'n Pay grocery chain, down to an SMME selling a single product through their very first landing page.
Challenges and pathways to going global
Ruberto explains that the team aims to expand first across Africa before looking at other international regions. Why? Because Africa offers a unique commercial environment. In the US and Europe, it's standard practice to have a bank account, but this isn't the case in Africa. It presents a unique challenge and opportunity for CTOs like Ruberto. This being said, Africa has experienced a boom in mobile access and mobile Internet access. Take Kenya, for example, where M-Pesa is the standard for getting money to where it needs to be. Innovation is welcome and that's where Peach Payments is heading.
Episode Highlights
"We want to understand how people spend on the ground, then cater to that quickly." — Ruberto Paulo
"You need to have significant trust in order for you to have healthy conflict." — Ruberto Paulo
"Seamless integration is the big win." — Ruberto Paulo
Leave a comment
Let us know what you think. We promice your email address will not be published.
Thank you for reaching out.
We'll be in touch in the next 24 hours to arrange a session with you.