Intelligent Business Applications
Honest. Professional. Affordable
Web Development, Mobile & Integrations
As a business, we seek out challenging software problems requiring intelligent business solutions, often partnering with our clients, in the pursuit of high quality engineering at affordable rates.
Our team in South Africa and the United Kingdom work together presenting a joint force to both markets – our UK clients enjoy an affordable, time-zone friendly offshore platform of resource, while our South African clients, mostly SMEs, enjoy enterprise-level development services at competitive rates.
We provide Tesco with end-to-end technical management of their primary artwork and packaging workflow solution and its integrations, assisting in analysis, design, implementation and support.
We provide Tesco a flexible consulting, development and project management service overseeing their system with professional business analysis and technical, independent advice on all facets from hosting and hardware to user interface design, as well as offer an independent approach to manage costs, output and performance of other software providers. We develop and maintain their API and system integrations, including a seamless two-way integration with ProofHQ's platform for review, collaboration and approval of all Tesco's packaging artwork.
We have expanded our client base and now provide robust software systems to the food industry. We understand the logistical and legislative concerns associated with the food system and have assisted Spur Corp in creating a system which meets these concerns. Our team of highly skilled developers and analysts work in tandem with stakeholders to ensure the system is of the best caliber and meets the requirements of a JSE listed company.
Spur Corporation is predominantly a franchisor, leveraging its intellectual property, experience, skills and support infrastructure to manage franchised restaurant operations. The Group aims to strengthen its presence in the various countries it operates in through the development of improved logistics, pricing and raw material efficiencies as well as capitalizing on economies of scale.
We assist Fenergo with flexible development capacity in their Research and Development team.
Fenergo's software solutions enable financial institutions to solve the challenges of end-to-end Client Lifecycle Management processes (from regulatory onboarding, data integration, client and counterparty data management, client lifecycle reviews and remediation all the way to client offboarding etc.) and is fast becoming the industry standard for Client Lifecycle Management.
By combining our dynamic team of developers, analysts and quality engineers with Simple's expertise in intelligent marketing activity, we have created an integrated system which stands out as being innovative and unique in their respective segment.
Simple is an intelligent marketing company which operates on a cloud-based platform providing a central workplace and source of truth that empowering marketing teams to have a single perspective across multiple different channels 
We provide Capitec Bank with a team of skilled developers to supplement their on-site key feature teams based in Stellenbosch.
Capitec's business model is focused on providing a value to its customers by providing low costs, giving customers the freedom to pay as they transact, and by offering the highest interest rate on deposits. Not only is Capitec Bank the fastest growing bank in South Africa but has emerged as the best bank in the world by International banking advisory group Lafferty in its inaugural Bank Quality Rankings in 2016 and 2017.
Haefele Software has assisted Victoria Asset Management in creating a bespoke system, catering for their unique financial requirements. Using our team of skilled professionals in parallel with the implementation of agile techniques, we have created a dynamic system meeting the stringent requirements of the finance industry.
Victoria Asset Management specializes in the valuation, acquisition, management and servicing of commercial real estate, construction loans and mortgages using their specialized financial systems. Victoria Asset Management also provide loan portfolio management, credit advisory services and performance assessments to banks in Europe.
Logistics companies are by their nature complex and touch many different industries. This makes system design an integral part of their business. By providing architecture, development, design and analysis skills we were able to create a custom system which fulfills Hellmann's requirements in the South African branch.
Hellmann Worldwide Logistics provide air, sea and road freight logistics solutions on a global scale to manufacturers, importers and trading companies and have now expanded their services to offer professional solutions of electronic commerce.
We assist De Beers Jewellers in elevating their existing system to be more innovative, efficient and user focused. By providing them with a team of talented individuals, we deliver timely work of a high caliber whilst maintaining a mutualistic relationship with the stakeholders involved.  
De Beers is the world's leading diamond company with mines in South Africa, Botswana, Canada and Namibia. With its unrivalled expertise across the diamond value chain, they now hold the title of being the worlds largest diamond producer by value.  
We assisted Big Inja Technologies in the analysis, design, architecture and development of their cutting edge product suite for barcode scanning services on mobile devices including BlackBerry, Android, iPhone and iPad, called Big Inja Online.
With some experience in enterprise solutions, we assisted Big Inja in the analysis and architecture for Big Inja Online and its integrations with mobile components. Following on into the development of the initial working phase, we hope to continue a long-term relationship assisting in the introduction of their flagship product to the South African and international market.
We assist FMG by flexibly boosting their analysis and development resource, working alongside their talent on features of their core offering, as well as client integrations and customisations.
FMG is a young, fast-growing digital media and technology company based in Cape Town, specialising in online media products improving the digital user journey, locally and internationally, in Publishing, Education and eCommerce sectors.
We oversee the analysis, design and development of OnSite Control Systems, a leading online and mobile collaboration solution for the construction industry.
Developed for a key construction industry player, OnSiteIMS is a fully-integrated mobile contract management solution to aid Project Managers, Consultants, and Main Contractor management in the control of site activities, actions, instructions and correspondence. This innovative enterprise solution offers unprecedented control over subcontractor performance, budget and delivery schedules, and with seamless, synchronised access via the web, mobile devices as well as complementing desktop applications, the elegant solution saves significant time and money in a complex environment with real challenges.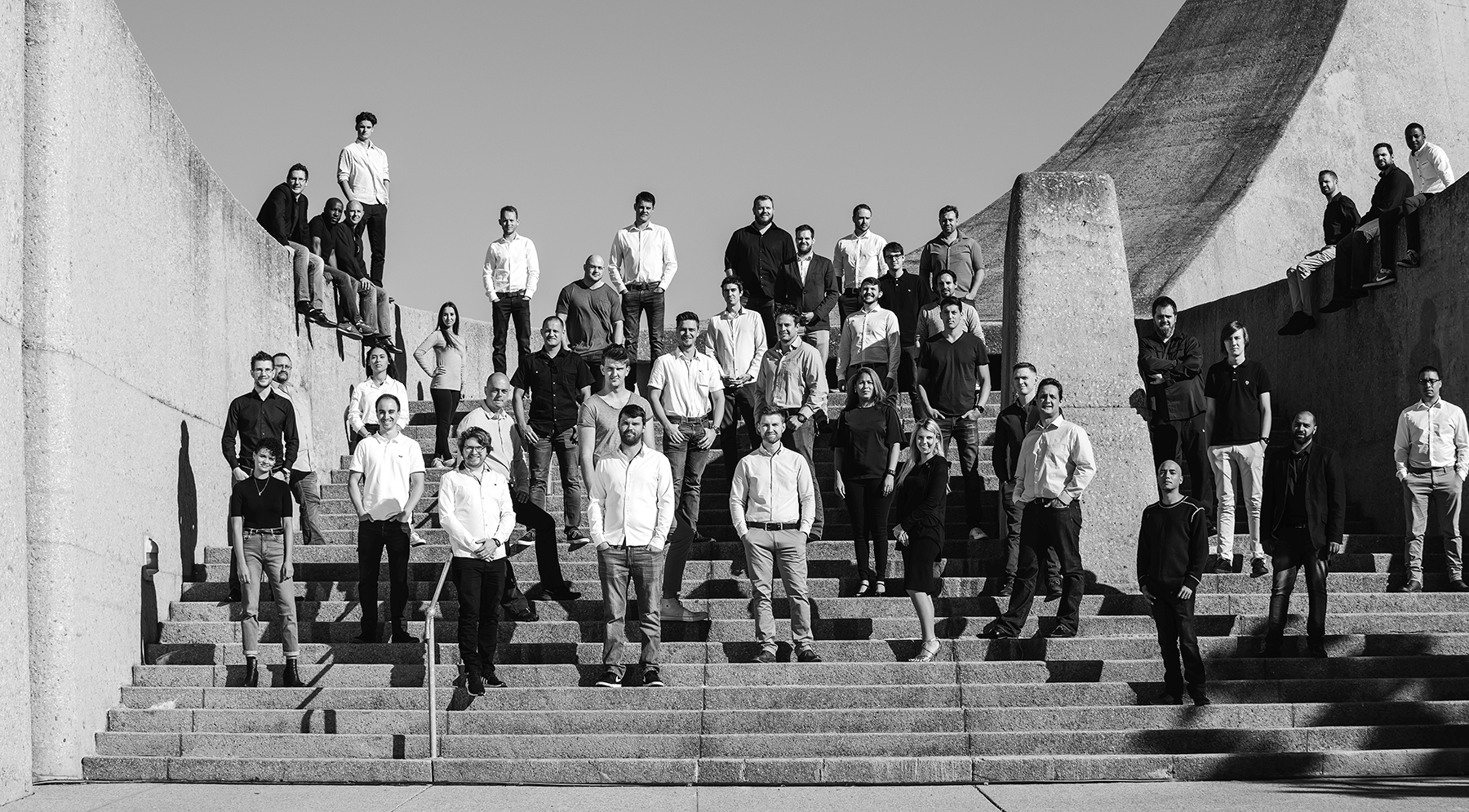 ALAN HAEFELE
Managing Director
GUY COLEMAN
Technical Director & Architect
SHAHN MIDDLETON
Technical Director & Architect
MONIQUE GELDENHUYS
Operations Director
NICHOLAS GORDON
Business Development - US
DEL DISEKO
Business Development - US
GAIL WEINER
Business Development - Europe
ROGER WILBANKS
Business Development - Australia & New Zealand
DEENA PATEL
Business Development - Australia & New Zealand
JAMIE-LEE BOWERS
Receptionist & Office Coordinator
CHRISTY HAEFELE
Social & Community Engagement
ANDROUX HAVENGA
Network Admin & DevOps Engineer
JONATHAN BALMER
Lead Business Analyst
BODHI MIDDLETON
Business Analyst
ANDREW WICKS
Business Analyst
ASHLEIGH FORSTER
Business Analyst
RYAN MEIRING
Product Owner & Business Analyst
IVAN BOCK
Business Analyst
KYLE ROYCROFT
Business Analyst
VINCENT ENGLISH
Developer
STUART BACKLUND
Developer
CLAUD PLAATJIES
Developer
BRADLEY DE KLERK
Developer
JONATHAN GEORGEU
Developer
HARLEY FERGUSON
Developer
CARLOS DE ALLENDE
Developer
CLINT HILL
Lead QA Engineer
LUCKY MTHEMBI
QA Engineer
RICHARD SEKWANE
QA Engineer
TERI JACOBS
Support Consultant
KIERAN MOORE
Support Consultant